Folk group Dolina (pronounced as <dʌlˈɪnə>, meaning "the Valley") was founded in the heart of the Silicon Valley in 2014 by three dedicated Russian folklore lovers – Pavel Agapov, Elena Samsonova and Maria Medvedeva, each with a unique ethnographic experience. By a happy whim, being quite far from our geographic and cultural roots, we felt the power of an authentic Russian tradition strong enough to start singing Cossack and Belgorod region songs in California.
None of us is a professional singer, but we learned to sing in ethnographic expeditions to Russian villages, inheriting the first-hand experience from legendary in the world of folklore representatives of a literary dying singing and dancing tradition. Of course we are far from singing like our teachers, but we love what we do, and we eagerly share what we have mastered within the last 15 years of passionately loving Russian folklore.
Members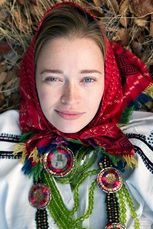 Maria Medvedeva
- I was first introduced to Russian folklore in 2001. Being a linguist, I was always interested in exploring the origins of my native language, as well as the new ways of self-expression. By a happy chance, I got to know a folk group "Zabava" (Russian for "Fun"), and it was so much fun, that I became a part of it at once. Only later did I understand how profound and extraordinary was what we were doing: traveling to ethnographic expeditions, recording authentic singing, dancing and storytelling traditions, getting to know extraordinary and legendary people, and getting to know ourselves.
It was a lot of fun to share what we love: within the 15 years with "Zabava", we organized many Russian and International festivals and seminars, and participated in various international folk events all over Europe. Soon after relocating to the Silicon Valley in 2011, I was lucky to meet wonderful and exceptionally talented people in love with folklore.

---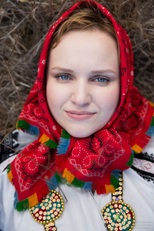 Elena Samsonova
- I had always had this strange feeling that Russian folklore was something utterly uninteresting and tacky until I saw the authentic thing. The moment I heard the folk group "Zabava" singing ancient songs calling for spring to come in a snowy garden in 2001, I knew I witnessed something genuine. Need I say, I immediately wanted to learn from them. Once I ventured into the world of folklore with its real life stories incarnated in majestic songs and dances from the past centuries, I knew I would never look back.
Folklore became an indispensable part of my student and then grownup life so I planned my free time around the festivals and field trips to villages. The folklore tricked me into a very long affair with a lot of new friends and impressions. My strong connection to my own culture kept me going when I had to move to the US in 2014. Here I was fortunate to reunite with my friend and folklore ally Maria in our new group "Dolina".

---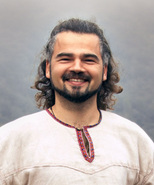 Pavel Agapov
- I moved from Moscow in 2008. Before that, I used to sing in a folklore group "
Belosvet
" under the leadership of
Alexey Kolyada
. When I met him in 2006, I'd never believe I would fall in love with Russian folklore; the image portrayed by mass-media was so wrong and had nothing in common with the living tradition cultivated by Alexey and his followers. They were always seeking deeper meaning behind every song, every ritual, every movement. Big thanks to him for making my life so much reacher!
Also, I'm very blessed to have Maria and Elena here in California; it's such an honor to sing with them, to join their marvelous voices.
---
We Thank our Teachers
It would be almost impossible to do what we love without our teachers, and very good friends Anzhelika Glumova (
http://www.zabavafolk.ru
), and Julianna Svetlichnaya (
http://www.ethnorussia.com
).
Thank you for your support and faith in us, and for your innate, genuine and contagious passion for the incredibly beautiful world of Russian folklore.